Directions
Address
Washington Water Trails Association
4649 Sunnyside Ave N #305
Seattle, WA 98103-6956
Map
Below is a map with our location starred. Exact directions can be found at Mapquest.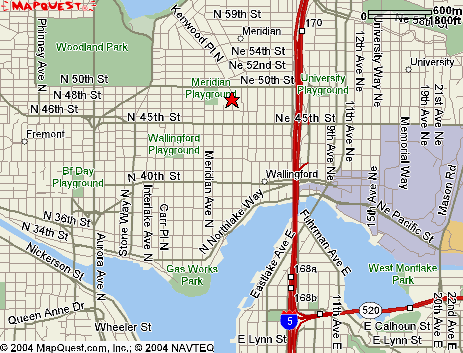 Driving directions from I-5
Exit #169 (45th Street) and go West on 45th
Go .4 miles; West (right) on Sunnyside Avenue North
Go one and a half blocks North to Good Shepherd Center entrance on left
Parking lots north and south of building. There is no parking fee
The WWTA office is on the 2nd floor above basement floor in Room 305.
Bus
Take Metro Bus #44 to Wallingford. On N 45th Street get off at the Sunnyside stop then walk 1.5 blocks north to the Good Shepherd Center.