Cascadia Marine Trail Site Stewardship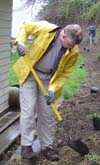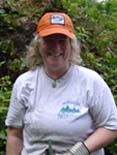 About the Cascadia Marine Trail Site Steward Program
The Cascadia Marine Trail (CMT) Site Steward Program is a long-standing volunteer effort to maintain a water trail that spans a couple thousand miles of shoreline. Site Stewards serve as the eyes and ears for WWTA on the growing Cascadia Marine Trail. Site Stewards monitor campsites with the perspective of the paddlers who use the sites and are trained to evaluate the function and features of the campsite.
Stewards visit Cascadia Marine Trail Sites at least two times a year and file reports electronically with WWTA. Reports update WWTA on the condition of facilities and trails, the presence of invasive plants, missing or damaged signage, any work the steward performed and user information. The arrangement of work parties at sites are often a result of important information received from these reports. Stewards also serve as an information resource for WWTA, land management agencies, and the greater public and often help arrange and conduct site work parties. Stewards may be called upon to advocate for the Cascadia Marine Trail by attending public meetings, submitting comments to government agencies, and serving as a liaison between WWTA and the public.
WWTA is re-organizing the Site Steward Program for 2009. No longer will Stewards be assigned to particular campsites, but will be encouraged to report as they visit different Cascadia Marine Trail sites. This will allow WWTA to recruit reports as needed (can anyone get to Lighthouse Park? We haven't seen a report in years!) and hear from a variety of perspectives regarding campsite conditions.
Join the team of Cascadia Marine Trail Site Stewards and attend the next Site Steward Training.
You are welcome to take a look at the Site Report Form for current Stewards or browse the list of recent Site Reports.
Frequently Asked Questions about Stewardship
Do I have to be a member of WWTA to be a Site Steward?
Membership is encouraged, but not required.
Can my club or business serve as Site Steward?
Yes, but one person will need to be the designated contact.
How long will I need to commit to be a Site Steward?
As long as you are able to visit the site at least twice a year and send WWTA a report. Several stewards have been with the program since its conception over 10 years ago, others have held the post for as little as a year.
How much of a time commitment are the site visits?
Expect to spend no more than an hour at an actual site. Transportation to and from more remote sites can extend the time commitment. We encourage making a boating trip out of it!
Can I adopt a specific site?
Previously, WWTA asked Stewards to commit to visiting a specific site. Now we encourage Stewards to report on any sites they visit. We may also recruit reports or volunteer work at specific sites that need attention. If you have a favorite site you visit often, we welcome your reports but will not limit you to one site.
Are there additional benefits to being a Site Steward?
Yes! Stewards receive generous discounts on trainings, such as Leave No Trace Trainer courses. Stewards are also individually recognized in the WWTA newsletter.
How do I become a Site Steward?
If you want to be involved, contact WWTA - email steward@wwta.org or call 206.545.9161.