Lakes-To-Locks Water Trail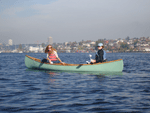 The Lakes-To-Locks Water Trail is a day use trail with over 100 public places to launch and land small non-motorized boats in the midst of vibrant Pacific Northwest communities. Explore the greater Seattle metropolitan area on lakes, rivers, and waterways. Discover hidden coves or enjoy miles of open water fringed by a variety of natural areas, suburban neighborhoods, and heavy urban industries.
The trail was designated in August 2000. It quickly received national notice, winning the inaugural Blue Ribbon Award from North American Water Trails in 2001 and the National Park Service Partnership Award in Recreation in 2002.
The lakes of Lakes-To-Locks are Sammamish, Washington, and Union. The locks of the Lakes-To-Locks Water Trail are the Hiram M. Chittenden Locks where fresh water meets salt water. This is one way to reach the Cascadia Marine Trail on Puget Sound.