Explore the Northwest Discovery Water Trail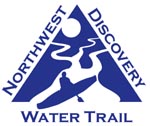 The Northwest Discovery Water Trail is a 367-mile recreational boating route on the region's defining waterways. It begins at Canoe Camp on the Clearwater River in Idaho, follows the Snake River down to the Columbia River and ends at Bonneville Dam in the Columbia River Gorge.
The Northwest Discovery Water Trail connects you to nearly 150 sites to launch your boat, picnic, or camp along these rivers when you travel by motorboat, canoe, sailboat, or kayak. Whether you take a day trip or an overnight excursion, the Water Trail can link you to small riverside communities, wildlife refuges and parks, riverside trails, museums and visitor centers, as well as campgrounds and lodging. Following the paddle strokes of tribal cultures and explorers like Lewis & Clark, the Water Trail will guide you through a cross-section of the region's natural and cultural wonders.