November 2015: Map Your Trip on the Water Trail
Plan an adventure on the Northwest Discovery Water Trail with the online mapping tool. Find plenty of places to launch your boat, camp, or picnic along the Clearwater, Snake and Columbia Rivers.
Summer Recreational Vessel Lockage Schedule

Click here for the Summer Recreational Lockage Schedule for the Portland District. The Portland District navigation locks are: Bonneville at River Mile 145, The Dalles at River Mile 191, and John Day at River Mile 216.
Partner Profile: Bob Burco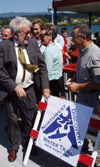 The stories surrounding the Northwest Discovery Water Trail are many. Read the rocks for the Missoula Ice Age Floods, hear native voices speak, look through the eyes of Lewis and Clark or let your mind follow the path boats, trains, and motor vehicles now make along the rivers. One story is how the modern-day water trail got its start. [Read more...]